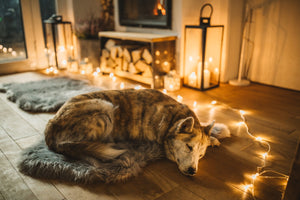 Everyday luxury Designed to last a lifetime
Inspired by a passion for creating beautiful artisan dog accessories, our designer dog collection effortlessly fits into your stylish lifestyle and home. We firmly believe that life with dogs, should still be beautiful.
Handcrafted to withstand the test of time, our premium luxury dog collars, dog leads, dog food bowls and dog beds ensure that your best friend enjoys the finer things in life. Welcome to Oonalfie.
PROUD TO BE 100% BRITISH
We are proud to be able to say that all our dog products are lovingly handcrafted in England, using traditional methods and upholding the British values of quality, longevity and durability. Although Oonalfie is still a young brand, we aspire to be a British Heritage brand of the future, which our customers and fellow craftspeople can be proud of.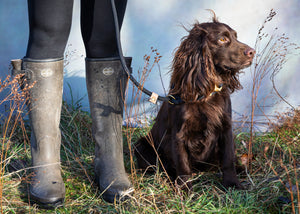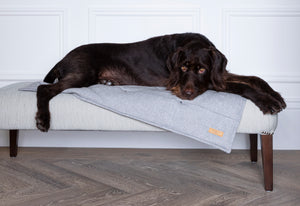 sustainability & Animal Welfare
Focussing on animal well-being and durability, our products are handcrafted using the highest quality performance materials, ensuring products last a long and happy life, thus creating a lighter footprint on our planet.  We choose materials that are washable, comfortable and which soften over time, to ensure your dog loves their 'Oonalfie life.'
QUALITY NOT QUANTITY
Every single product you see on our website is the result of hours of intensive research and testing to ensure safety and comfort for your dog.  First and foremost Ooonalfe products must be practical and dog friendly.  We don't rush to fill our store with new collections, but take time to develop ideas into beautiful products that we are proud to launch under our brand name.
 Very simply, Oonalfie Artisans work with their hands (not large scale machines), to produce small batch runs, ensuring that each and every piece is of an exceptional quality and finish.  
Blog
---
Practical tips to keep your dog cool in the heat.  Dog water safety.  Healthy summer snacks ideas
Running a business is a journey  Four years ago, after 18 months of product development, Oonalfie was launched.  We filled the gap at the top end of the market, focussing...
  Holiday and Travel Tips for Dogs Taking your dog on holiday may seem idyllic, especially if this will be your pup's first holiday, but doing a little pre planning...
Testimonials
LASTS FOREVER
Or so it seems. Inka has had her collar for several years, since she stopped growing. It is comfortable for her, washes brilliantly and literally goes through multiple hedges week in week out. Even the whipping stays tight. A brilliant design.
J Buckham Nov '20
EVERYTHING YOU NEED
'Been looking for a complete first aid kit for my dog for ages - I didn't want one in a plastic box but wanted something that would have the items necessary and look stylish - this First Aid Kit does just that - form & function. I love that a bottle of colloidal is included included'
B.Scher Oct '20
REALLY BEAUTIFUL PRODUCTS
We bought a collar, matching lead, eiderdown and dog bowl a year ago. Laura's attention to detail is in everything and everything lasts. We've had many compliments on the collar; and our dog sleeps on her eiderdown on our sofa every day, looking very smart. The dog bowl is sitting on my coffee table waiting to be used as a water bowl one day....
C Warriner Sept '20